TERA COFFEE and ROASTER
shop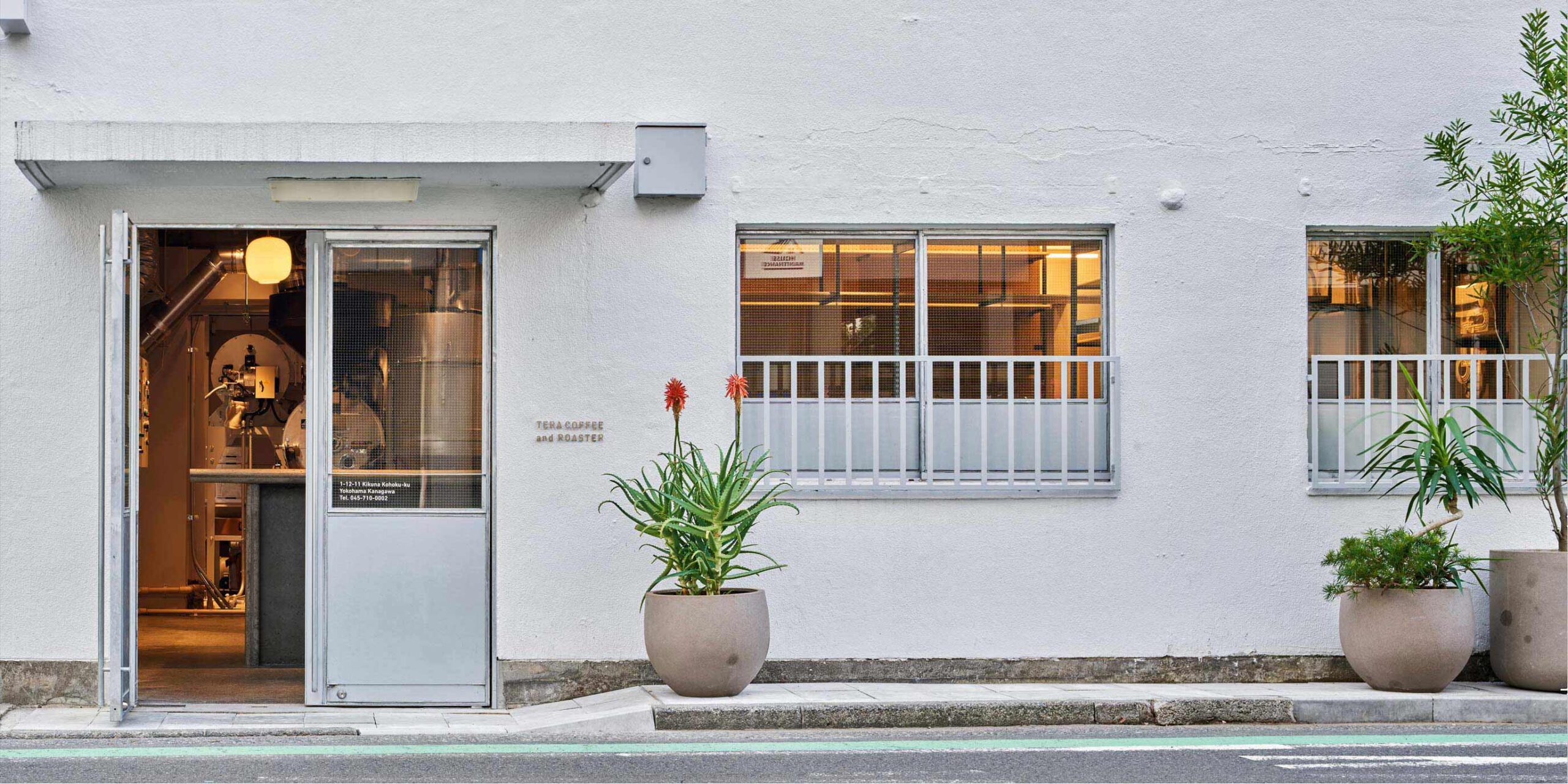 東急東横線、妙蓮寺の緑溢れる公園の傍。
元々郵便局のあったビルに入るコーヒーロースタリーのショップデザイン。
約50年、その場所にあったビルの佇まいや雰囲気を残しながら、
ビルの持つポテンシャルを活かすようにデザインをしていくことにした。
内部は解体して出てきた昔ながらの細かい型枠のコンクリート駆体を活かしつつ、
床の洗い出しは郵便局時代を面影を残し、補修や塗装も最小限ながら最大限に環境を活かすよう
取捨選択をしていく。
入り口の扉を開けると鎮座するのはビルよりも年上のヴィンテージのPROBATの焙煎機。
厳選したコーヒー豆を'焙煎'するように、
空間を構成する什器や素材たちも、素材が持つ本来の良さを大切にしながらそこに落とし込んでいく。
現場で型枠を組んだコンクリート研ぎ出しのカウンター。鉄の風合いを生かした什器。豆を粉砕すること
から着想を得た、砕いた繊維から作られた再生材料の棚板。
オーナーや既存店の持つどこか角の取れた地元に愛される雰囲気を、什器の小口のR(アール)に込めて
固く緊張感を生みがちな素材たちに暖かみを付加していった。
駆体、焙煎機、内装、什器。
古き良き空間の中でそれらを'ブレンド'し、それぞれの良さを'抽出'するように落とし込むことで、
真新しさが持つ違和感のない、佇まいを継承するような空間に仕上がった。
―
Tokyu Toyoko Line, near the green park of Myorenji.
A coffee roastery shop design that goes into the building where the post office was originally located.
While retaining the appearance and atmosphere of the building that was there for about 50 years,
I designed it to make the most of the potential of the building.
While making use of the old-fashioned fine formwork concrete body that came out after dismantling the inside,
Washing out the floor will leave a lasting impression of the post office era, and make the best use of the environment while minimizing repairs and painting.
I made a choice.
When you enter the entrance, you will find a vintage PROBAT roasting machine that is older than the building.
Just like'roasting'carefully selected coffee beans
The fixtures and materials that make up the space were also dropped into the space while valuing the original goodness of the materials.
A concrete-polished counter with a formwork on site. Furniture that makes the best use of the texture of iron. Crushing beans
Inspired by, shelves made of recycled materials made from crushed fibers.
Put the atmosphere of the owner and the existing store, which is loved by the locals, into the small R of the furniture.
Warmth was added to the materials that tend to create a firm and tense feeling.
Vehicles, roasting machines, interiors, furniture.
By'blending'they in the good old space and'extracting' the goodness of each.
The space is finished to inherit the appearance without the sense of incongruity that the brand newness has.
—
Publicity/メディア掲載:
Retail Deign Blog : https://retaildesignblog.net/2022/02/01/tera-coffee-and-roaster/
TECTURE Magazine : https://mag.tecture.jp/project/20220518-tera-coffee/
—
Movie : Shotaro Niikura (S Wood Works)
DATA
Type

Shop

Category

Interior Design

Date

2021.12

Location

Myorenji , Kanagawa

Size

165.4㎡
CREDIT
Client

TERA COFFEE and ROASTER

Interior design

moss.

Construction

Yuki Sataka (a.d.p) | Daisuke Sato (mog craft)

Partners

Shinya Araki(Handihouse Project)| Fuminori Kudo (Nuri labo+) | Jun Terao (Design Studio pintto) | Green Art | Yumi Matsushita | Slaptone inc. | さいとう工房

Photo

Koji Fujii (TOREAL)