TENTiE
office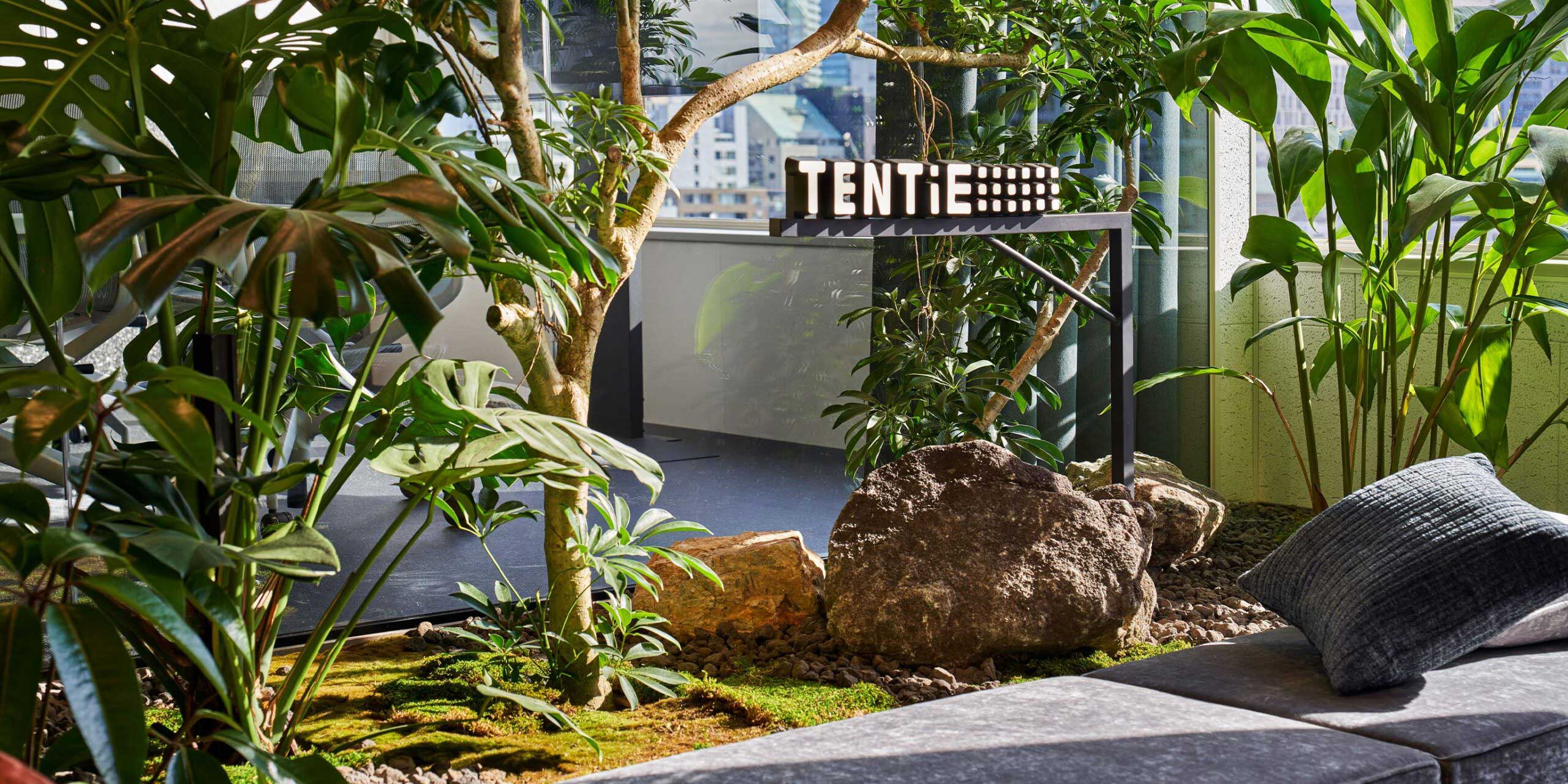 – 個の集積と、線の交差によって生まれる企業を体現するオフィス。
アーティスト活動支援プロジェクト「MUSIC PLANET」を主催し、
夢を持ち、楽しむ人たちの夢を全力で応援する企業、TENTiEの東京オフィスのデザイン。
線の交差によって生まれる多様なVOID(ヴォイド)に、働く場所、会議室、ラウンジなど人が行き交う様々な要素をそこに付加していき、
それらの関係を緩やかに区切るように多様な植栽を配置する。その植栽は単に装飾としてではなく、個性の交わりを大切にする企業を体現するシンボルとなる。
線の交わりは人の動きをコネクトする導線に動きと深みを生み出し、
常に動き続けるベンチャー企業ならでは活力と鼓動を感じさせる空間を形成する。
素材に関しても、吸音材やウレタンチップなど、'音'に関係した個性的な素材を木や鉄、ガラスの直線的な要素と組み合わせていく。
ひとつひとつの個性(点/Ten)が、強く繋がる(Tie)ことで大きな力を放つ。といった企業が掲げるテーマを体現するような、個性が混じり合い、繋がりながらさらなる相乗効果を生むオフィスを目指した。
―
-An office represents the accumulation of individuals and intersection of lines.
The various voids created by the intersection of lines incorporate functions such as working places, meeting rooms and lounges.
A variety of plantings are placed to gently divide these relationships.
The planting is not just a decoration, but a symbol of a company that values the interplay of personalities.
The interplay of lines creates a sense of movement and depth that connect people's movements, represent a space that exudes the vitality and pulse of a venture company that is always on the move.
Unique materials related to 'sound' such as sound-absorbing materials and polyurethane chips are combined with linear elements of wood, steel and glass.
The design aims to create further synergy which represents a company philosophy "individuality (Ten) mixed with connection (Tie) is to create great power" .
—
Publicity/メディア掲載:
OFFICE SNAPSHOTS : https://officesnapshots.com/2022/03/22/tentie-offices-tokyo/
TECTURE Magazine : https://mag.tecture.jp/project/20220818-tentie/
商店建築2022年11号 : https://shotenkenchiku.com/products/detailp.php?itemid=3999
GREEN is Vol.4 : https://shotenkenchiku.com/products/detail.php?product_id=436
—
Movie : Shotaro Niikura (S Wood Works)
DATA
Type

Office

Category

Interior Design

Date

2022.02

Location

Shibuya-ku , Tokyo

Size

546.78㎡
CREDIT
Client

TENTiE

Interior design

moss.

Project management

WM

Construction

REM

Partners

Jun Terao (Design Studio pintto) | Tan (Kaoru Enomoto) | MIXTE (Sei Ishikawa) | COMPLEX UNIVERSAL FURNITURE SUPPLY | Marvelous inc. | CHELSEA INTERNATIONAL

Photo

Koji Fujii (TOREAL)