moss. | Season's Greetings 2022
2022.12.15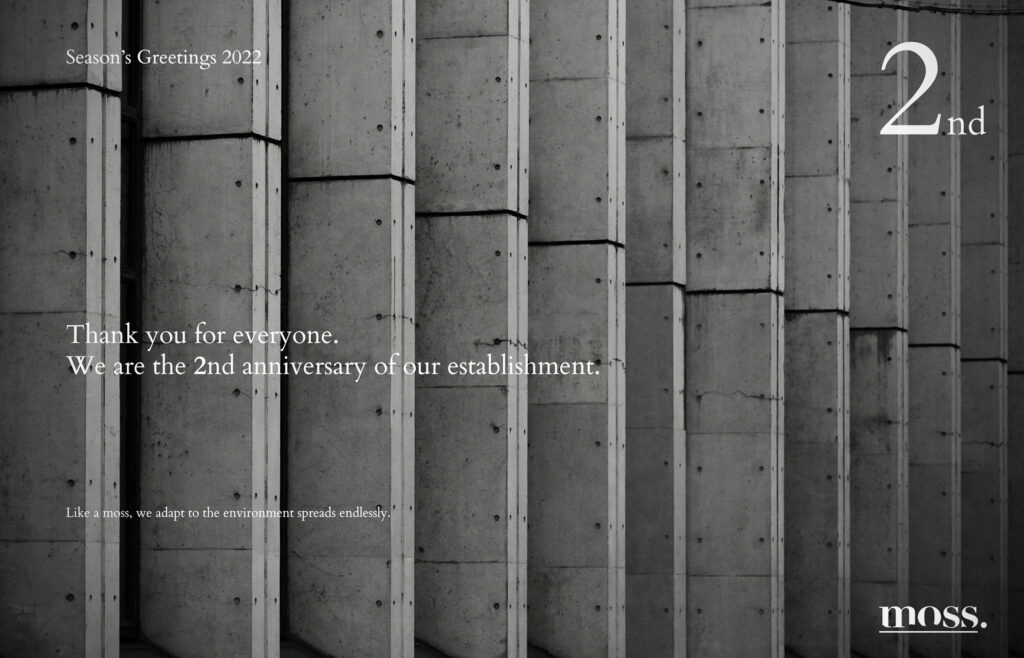 混沌とした日々からようやく光が差してきた昨今、
支えてくださるみなさまと共に、実りある2022年を過ごすことができましたこと、心から御礼申し上げます。
私たちmoss.としても、設立をしてからなんとか無事に2周年を迎えることができました。これもひとえにご協力を賜りました皆様のお陰です。重ねて御礼申し上げます。
おかげさまで今年一年、オフィス、住宅、店舗と分野を横断して多くのお仕事を経験させていただき、現在は母校でもある専門学校の新校舎プロジェクトを鋭意進行中です。
moss.とはその名の通り、'苔'を意味する言葉から来ています。
—
'苔のむすまで'
-小石が成長して大きな岩となり、それに苔が生えるように限りない悠久の年月を可視的なイメージとして表現したさま-
—

・・・来年も、これから先も、
支えてくださる皆様、そしてこれから関わってくださる皆様と共に、
クリエイティブな時間やデザインを通して、悠久で実りのある空間を共に創造していければと願います。小さな積み重ねをこれからも大切にしていきたいと思います。
今年も残りあとわずか。残りもどうか素晴らしい日々に、そして、皆様にとって素晴らしい新年になりますようお祈り申し上げます。
2022年も変わらぬご支援ご愛顧をどうぞよろしくお願い申し上げます。
2022.12.吉日moss.
Design Director | Takeshi Shima / 志摩 健
—
As the light finally shines after the chaotic days of the past few years, we are now in the midst of a new era.
Together with all of you who support usI would like to express my sincere gratitude to all of you who have supported us through the year 2022.
We at moss. have also managed to celebrate our second anniversary since our establishment.We would like to take this opportunity to thank all of you for your cooperation and support. We would like to thank you again.
Thanks to your support, we have been able to experience many jobs this year across the fields of office, residential, and retail, and we are currently working on a new project at a technical college, which is also my alma mater.I am currently working on a project for a new school building for my alma mater, a vocational school.
As the name suggests, "moss." comes from a word meaning "moss.
— "moss.Until the moss grows.-Pebbles grow to become large rocks, and moss grows on them.The word "moss." is derived from the word for "moss," as the name implies.
–・・・Next year, and in the years to comeWith all of you who support us and will be involved with us in the futureI hope that we can continue to create a long-lasting and fruitful space through creative time and design together with all of you who support and will be involved in our work.
There are only a few days left in this year.I wish you all the best for the rest of the year.I wish you all the best for the rest of the year and a wonderful New Year.
We look forward to your continued support and patronage in 2022.
2022.12moss.
Design Director | Takeshi Shima